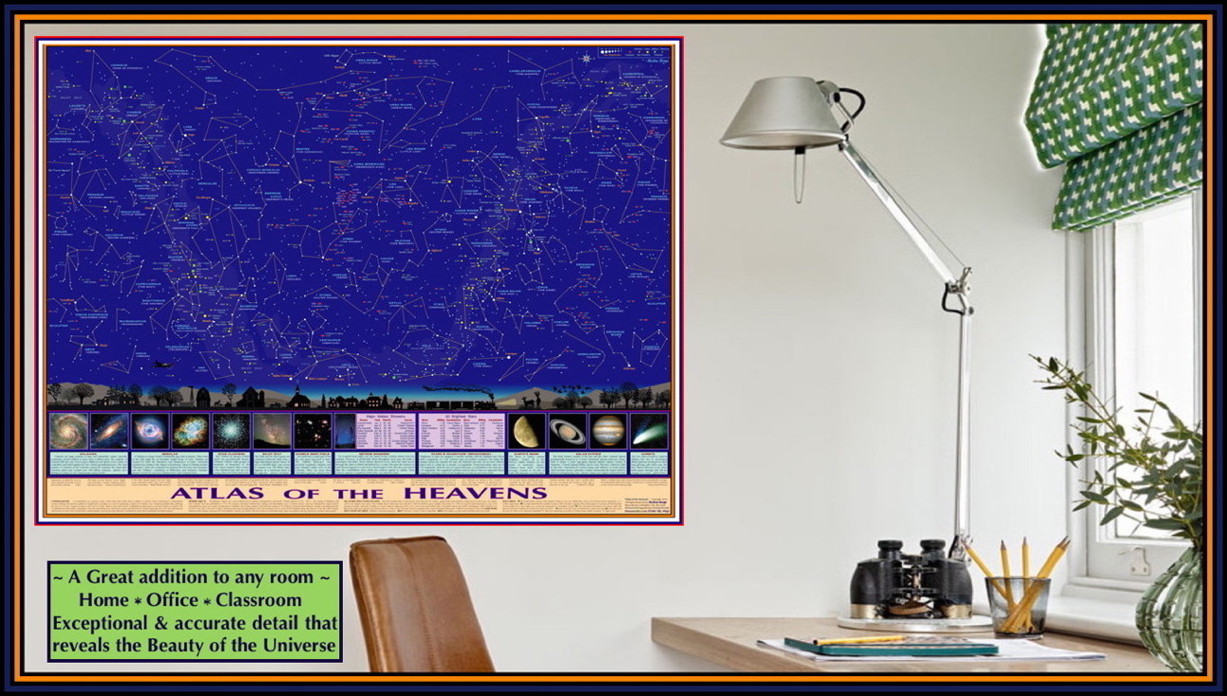 "ATLAS of the HEAVENS" Sky Map. A Beautiful Star-Map revealing the beauty of the Universe, displaying all the Constellations, plus over 300 Galaxies, Nebulas & Star Clusters! Includes a 'Meteor-Showers Calendar' and many NASA-Hubble Space Telescope photos. The #1 Sky-Map on the Market.
Sale Price: (FREE Shipping on ALL Orders) ONE Sky-Map: $15.00 Purchase TWO Sky-Maps (and SAVE) for $25.00
-The Night Sky holds countless wonders! Nothing can compare to being outdoors on a dark, starry night and gazing at the endless field of shimmering lights. The Stars of Earth's night sky seem to hang like tranquil lanterns, filling us with wonder. They inspire great works of art & tempt our imagination. To help us learn and appreciate the Great Cosmos that surrounds us, I've designed "ATLAS OF THE HEAVENS" Star Map, making it the perfect companion for viewing the Night Sky, offering a wealth of astronomical information along with revealing the Universe's beauty. Size of Sky Map/Poster (shown below) is: 30 inches by 24 inches (30" X 24") -Enjoy from across the room!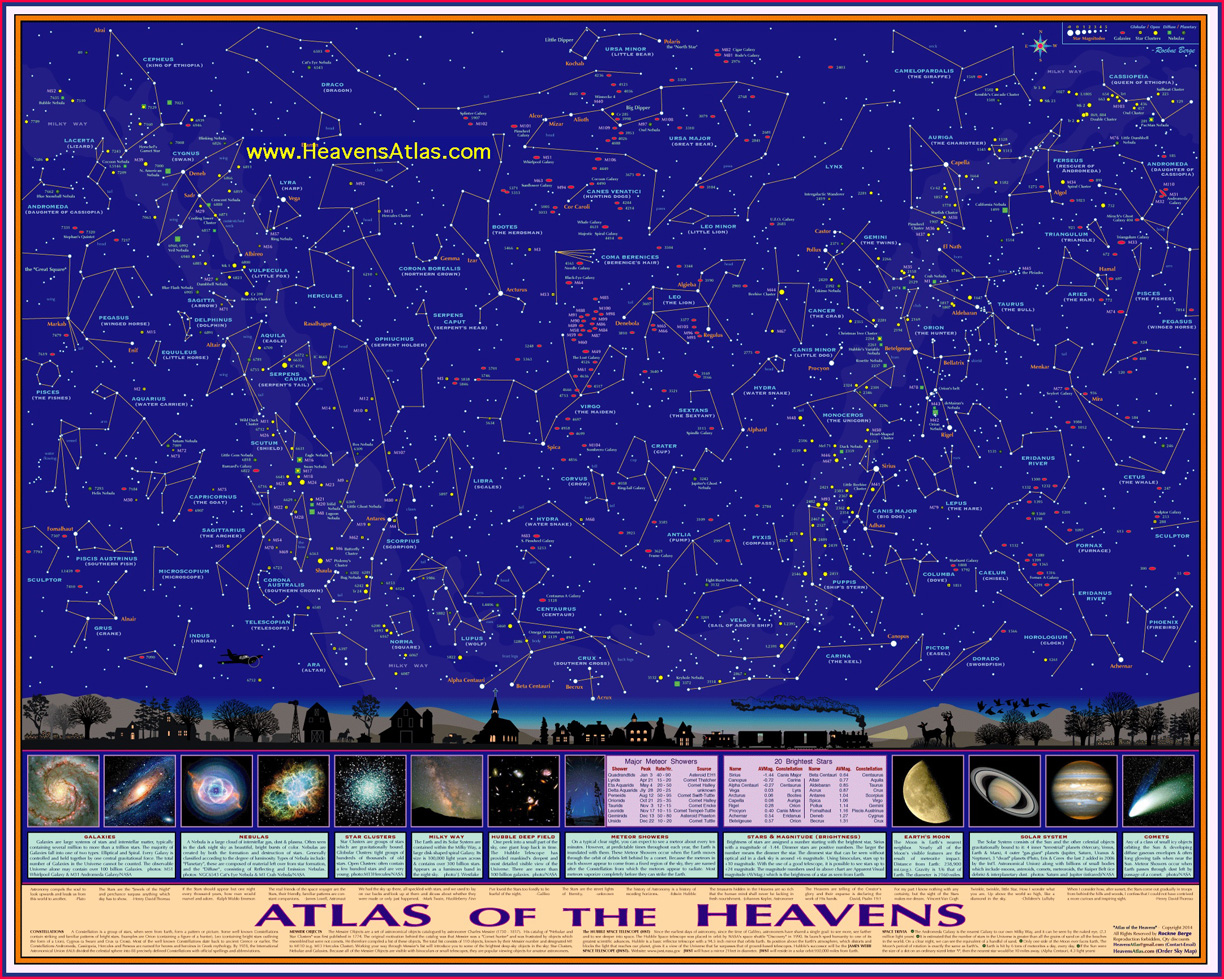 The "ATLAS OF THE HEAVENS" Star Map (above) is appealing on any wall or room. Once you put it up, you'll keep looking at it just because it's so incredibly pleasing. It's also an easy-to-use guide to the Night Sky for amateur astronomers on up. It displays the positions of 100's of the finest astronomical objects visible with backyard telescopes, binoculars or just the naked eye. Identify all the major Galaxies, Nebulas, Star Clusters, all 110 Messier Objects, and all of the Constellations. "ATLAS OF THE HEAVENS" includes a calendar of the major Meteor Showers, displaying peak dates & the average number of meteors visible-per-hour during the shower. Also, stunning photos from Hubble Space Telescope (HST). Overall, the exceptional detail and vivid color makes "ATLAS OF THE HEAVENS" the perfect addition to any room. Printed on High-quality paper and Bright-gloss finish providing eye-popping color, making it perfect for framing. -Rockne Berge
-

Above
is a
small detail
of:
"Atlas of the Heavens"
Star Map. Learn the many constellations found in the night sky and how they relate to each other. Included are all the major Galaxies, Nebulas & Star Clusters along with all 110 Messier Objects. Both Latin and the Common English name given for each Constellation. This Night Sky Star Map looks great anywhere: Home, Office or Classroom. - Rockne Berge